Misfit Hounds Benefit Auction & Adoption Event
Category
Civic Organization
Venue
ETSU Millineum Center Ballroom
Misfit Hounds Benefit Auction & Adoption Event
Date: Friday, September 13, 2019
Time: 6:00pm - 9:00pm
Where: ETSU Millineum Center Ballroom, 2001 Millennium Place, Johnson City
Misfit Hounds is a non-profit rescue located in Elizabethton, Tennessee (EIN#83-1446233) which was organized to provide a safe haven for "throwaway" hounds. Misfit Hounds takes in and provide shelter to hounds, as well as other breeds depending on the severity of the situation. Misfit Hounds specialize in senior canines and those with special needs.
Misfit Hounds is incredibly thankful to receive donations from the following animal friendly companies and organizations:
The Pawfect Place, Maple Street Biscuit Company, Jim's Motorcycle Sales, Austin Springs Spa, Lakeside Marina, Mid City Grill, Flyaway Indoor Skydiving, Hollywood Wax Museum, Total Hair & Body, The Rage Room, K9 Photo, Hands On! Discovery Center, Zen Tubing, Kingsport Aquatic Center, Mona Lisa Gelato & Cafe, Dry Clean City, Downtown Sweet & Tea Room, Nylabone, Olive Oil Divine, ETSU, Country Tonite Theater, AMC theater 14, Beauty Spot Salon and Spa, TN Mountain Tours, Nascar Speedpark Smoky Mountains, Rafting in the Smokies, Masterpiece Mixers, Yarntiques, Monkee's, The Willow Tree Coffee Shop, All Creatures Bakery, Southern Releaf, Smith Brothers Harley-Davidson, FoxFire Mountain Adventures, and more!
Link to get your tickets: CLICK HERE!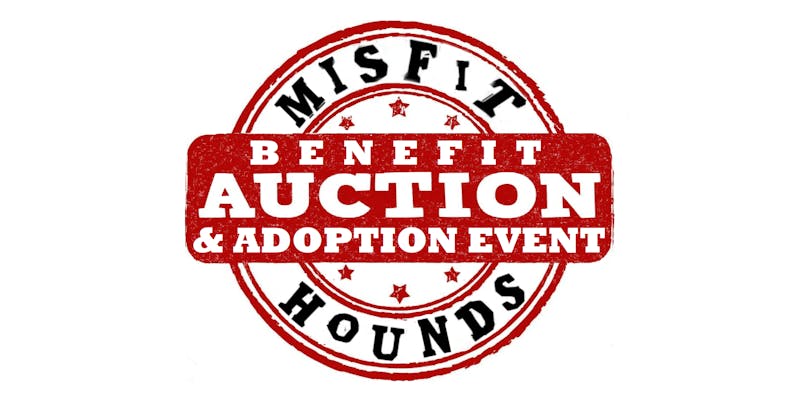 Photo source: https://img.evbuc.com/https%3A%2F%2Fcdn.evbuc.com%2Fimages%2F66589505%2F320205097701%2F1%2Foriginal.20190725-223139?w=800&auto=compress&rect=426%2C0%2C2752%2C1376&s=0442ae2fda8f5ba260745ae694543da5